| DAILY EXCURSIONS | ESCORTED | COACH CHARTERS | INCENTIVES | HOME |


Hans Meier Tourist Ltd. - The #1 innovative TOUR - OPERATOR in Switzerland with its own Fleet of deluxe motor coaches, proudly presents the new flagship of the fleet: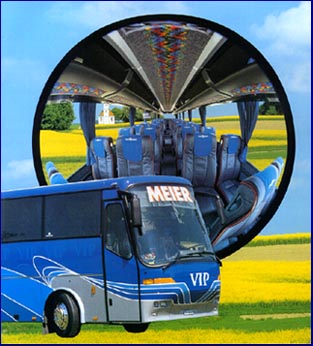 Your Advantages



· Comfort:
RELAX seating assures optimal sitting comfort. Leather reclining seats with very generous leg-room adjust sideways and backwards to convert into comfortable sleeping armchairs.
· Time/Speed:
Your time available is used more efficiently. Enjoy a worry-free relaxing trip (short or long distance) thanks to our skilled drivers.
· Flexibility:
You decide when, where, and how long your stay will be, in contrast to other means of transport.
· The Experience:
Care-free travel in highest comfort with all the amenities the modern VIP Coach offers. Enjoy the scenery or engage in an interesting talk with your neighbor. In addition, feel good in the knowledge that you are helping the environment.
· Price/Quality:
The relationship is right. Convince yourself of our price/quality offers.



Your partner for top swiss class travel with 66 years of experience guarantee comfort, quality and service

Transfers, Charters & Limousines, Please let us know your requirements, it will be a pleasure for us to work out detailed quotations and make all necessary arrangements according to your specific needs.

For a detailed program of our tours or further information please
feel free to contact us.

MEIER TOURS - GRAY LINE ZURICH

Hans Meier Tourist Ltd.
Jupiterstrasse 35, CH-8032 Zurich
Switzerland
Phone: +41 (0)44 383 7878
Fax: +41 (0)44 383 1705
E-Mail: meier@meiertours.ch

Assurance of Customer Money: Hans Meier Tourist Ltd. is a member of the guarantee fund of the Swiss Federation of Travel Agents (www.reisegarantie.ch) and guarantees the security of money received in connection with bookings.


THE LEADING SWISS TOUR OPERATOR
| DAILY EXCURSIONS | ESCORTED | COACH CHARTERS | INCENTIVES |